I never get tired of discovering CBD and Cannabis based beauty products. Today, I selected three products for the face and body that are just terrific.
First from Humble Flower: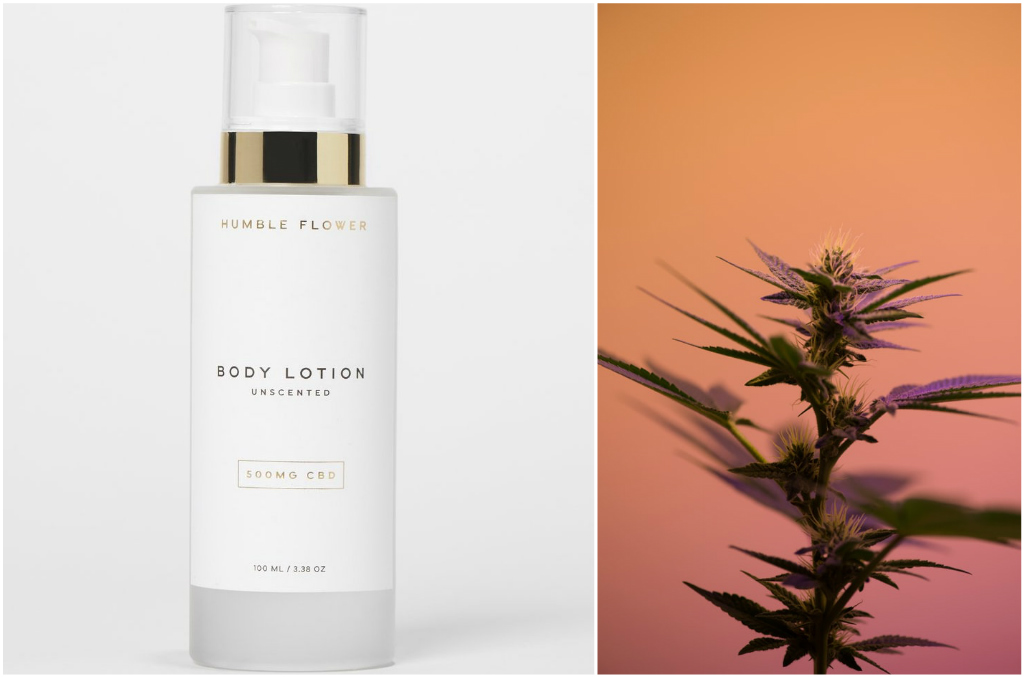 Try their fragrance-free, silky and restorative body lotion.
The body lotion has 250mg THC & 250mg CBD. This nourishing lotion is infused with botanicals and ingredients that instantly soothe and replenish, leaving skin fresh and rejuvenated with long-lasting,
Smooth to the skin where you are experiencing dryness, tension, or aches and pains. To enhance absorption and healing, massage into skin in a circular motion. Apply as often as desired. It will provide you with deep hydration.
The key ingredients are:
Purified Water, Sunflower Oil, Octyl Palmitate, Vegetable Glycerin, Aloe Barbadensis Leaf Juice, Glyceryl Stearate, Tromethamine Stearate, Cetyl Alcohol, Vitamin B, Allantoin, Lavender Extract, Arnica Extract, White Tea Extract, Chamomile Extract, Tocopherols, Jojoba Oil, Borage Oil, Tamanu Oil, Sodium Carbomer, Phenoxyethanol, Ethylhexylglycerin, Cannabis Extract. Organic
---
Also for the body from Apothecanna.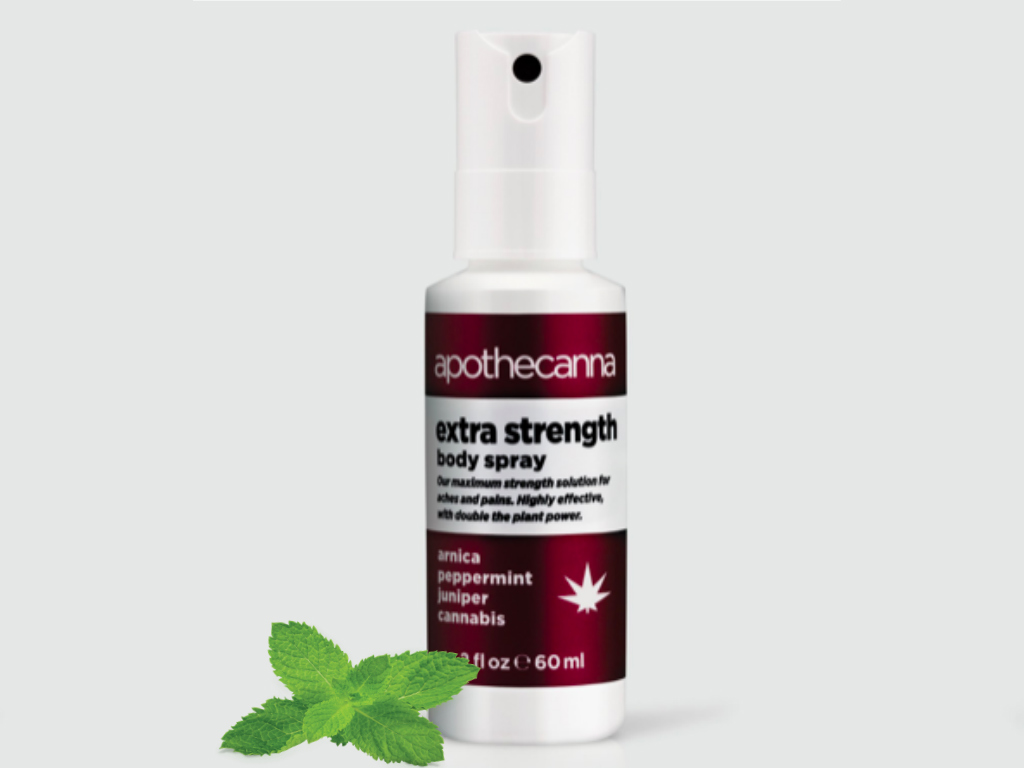 Try the Extra Strength Body Spray.
Extra strength, fast-acting, ache- and pain-relieving body spray formulated with healing essential oils and plant extracts.
The Extra Strength formula provides even more powerful relief from chronic conditions like arthritis, migraines, and carpal tunnel as well as short-term setbacks like strains, sprains, cramps, bruises, and sun and windburn. Cooling and invigorating, perfect for use on sore muscles, swollen joints, and weather-exposed skin.
Spray 1-2 mists on areas of discomfort. Use before and after athletic or strenuous activity. Avoid broken skin and sensitive areas. Designed for topical use only.
The key ingredients are:
Arnica – heals bruising, relieves sprains. Peppermint – soothes skin, reduces inflammation. Juniper – reduces swelling, soothes nerves. Cannabis – anti-inflammatory, relieves stress.
Total Cannabinoids: 50MG Hemp-derived CBD (Cannabidiol)
From the same company, try their everyday Face and Body Oil.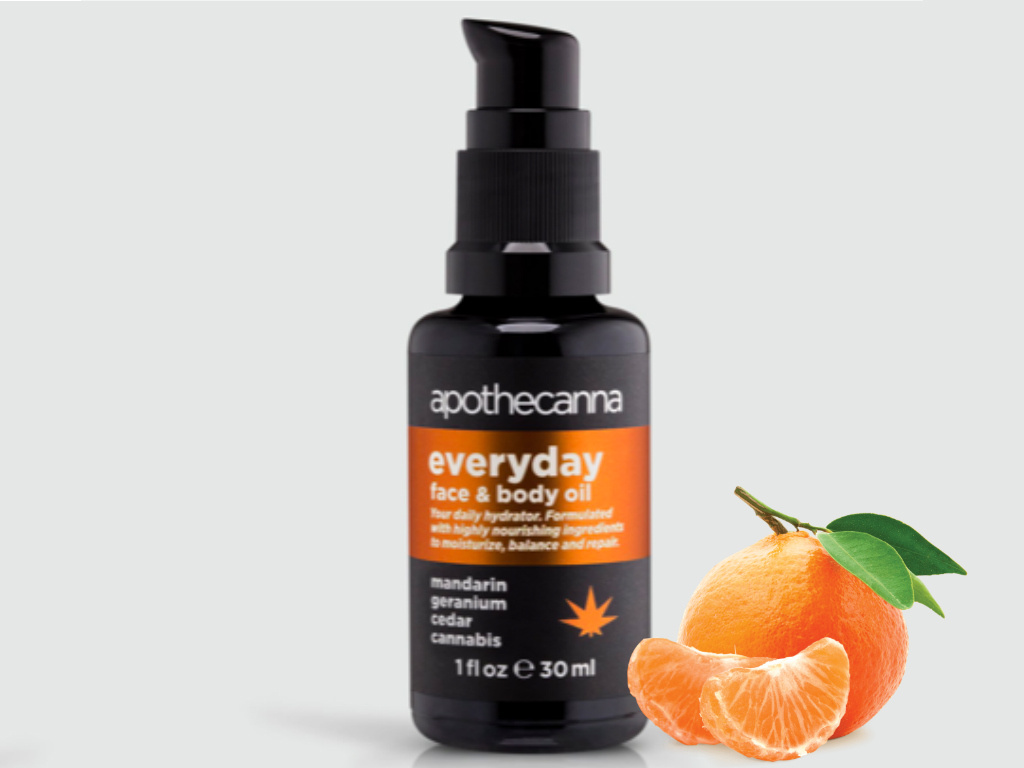 A blend of organic essential oils that work in harmony to eliminate dryness, prevent premature aging and clarify imperfections with notes of citrus to engage the senses. The all-natural plant extracts work to cleanse pores and replenish even the most sensitive skin. Lightly massage 1-2 pumps of oil onto your face, scalp, beard, or other areas that require targeted hydration. Apply after showering to trap in moisture, and before bedtime for overnight restoration. Avoid broken skin and sensitive areas.
The key ingredients are:
Mandarin – moisturizing, brightens skin, Geranium – de-congests clogged pores, heals scars, Cedar – antioxidant, soothes skin, Cannabis – anti-inflammatory, relieves stress.
Total Cannabinoids: 50MG Hemp-derived CBD (Cannabidiol)
All great products!

To check out Humble Flower visit www.humbleflower.com
To check out Apothecanna visitwww.apothecanna.com