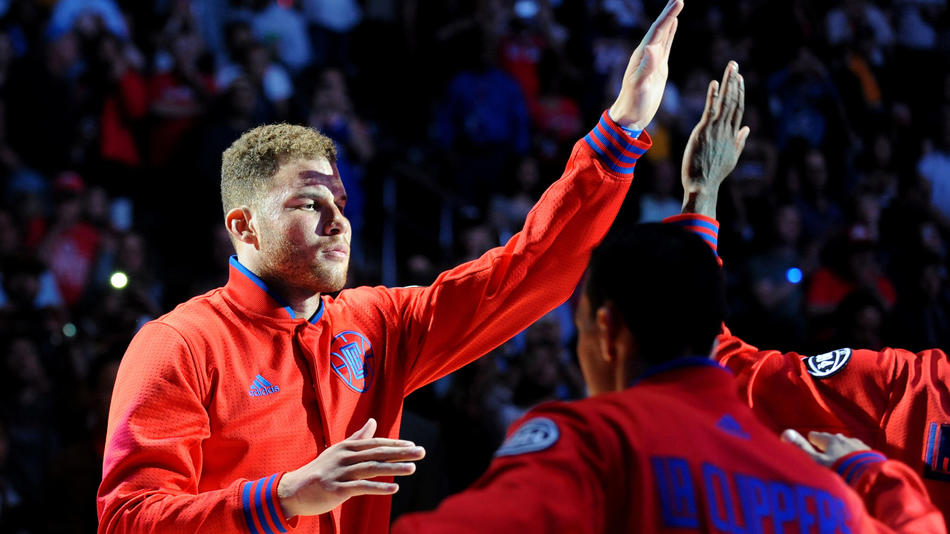 Blake Griffin will remain a Clipper after agreeing to sign a maximum contract with the team for five years and $175.74 million, according to an NBA official. Griffin had spent about three hours talking with the team's front-office brass in a room upstairs at Staples Center before he came downstairs to see teammates and other team officials.
Clippers owner Steve Ballmer, coach and president of basketball operations Doc Rivers, executive vice president Lawrence Frank and consultant Jerry West made the strong pitch to Griffin during the long session. After that was over, Griffin strolled down the arena floor with his two kids, son Ford Cameron-Griffin and daughter Finley Elaine Griffin, and his girlfriend, Brynn Cameron.
The full-court press on Griffin continued, drawing that smile from him and causing others in the organization to say to each other, "Blake is in." Griffin's teammates Jamal Crawford, DeAndre Jordan, Wesley Johnson, Patrick Beverley and Sam Dekker also were at Staples Center making sure he didn't leave.
"This huge, this is absolutely huge," Crawford told The Times after he had landed back in his hometown of Seattle from Los Angeles. "Blake is one of the very best players in the NBA. And L.A. is home for him. When I heard, I felt like I was dreaming. It's just an unbelievable feeling."
Griffin and his family stuck around to watch the production on the jumbo screen at Staples Center. "It was not cheap," one Clippers executive said. "It was a very expensive production."
Griffin technically couldn't agree to the deal until the NBA's free-agency period opened at 9:01 PDT Friday night, but the Clippers were allowed to talk with the power forward earlier in the day because he had spent the past seven years on the team.