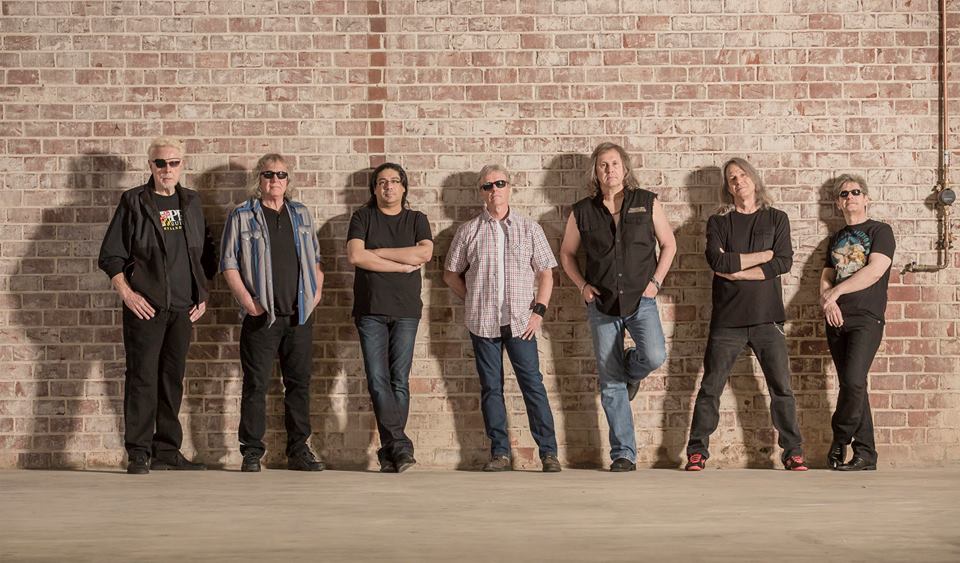 KANSAS will be expanding their highly successful Leftoverture 40th Anniversary Tour to more parts of the United States in the fall of 2017! The band is best known for their hits: "Carry On Wayward Son" and "Dust In The Wind."
For the first time in its 43-year history, the band is performing the hit album in its entirety. The tour showcases more than two hours of classic KANSAS music including hit songs, deep cuts, and new songs from their new album, The Prelude Implicit.
Based on incredible demand, dates have been confirmed for a final U.S. leg of the Leftoverture 40th Anniversary Tour across cities such as San Francisco, CA; San Diego, CA; Houston, TX; Minneapolis, MN; Topeka, KS; Champaign, IL; Wichita, KS; Knoxville, TN; Toledo, OH; Jacksonville, FL; and many more.
2017 LEFTOVERTURE 40th ANNIVERSARY TOUR DATES:
March 24 Salina, KS The Stiefel Theatre - SOLD OUT
March 25 Tulsa, OK The Brady Theater
March 31 Des Moines, IA Hoyt Sherman Place - SOLD OUT
April 1 Peoria, IL Peoria Civic Center Theater
April 7 Louisville, KY Louisville Palace
April 9 Charleston, WV The Clay Center
April 18 Denver, CO The Paramount
April 20 Salt Lake City, UT Delta Hall at Eccles Theatre
April 22 Las Vegas, NV The Smith Center - Reynolds Hall
April 23 Chandler, AZ Chandler Center for the Arts
April 26 Los Angeles, CA The Wiltern
April 28 Portland, OR Arlene Schnitzer Concert Hall
April 29 Seattle, WA Moore Theater
July 16 Loreley, Germany Night of the Prog Festival

NEWLY ADDED 2017 LEFTOVERTURE 40th ANNIVERSARY TOUR DATES:
August 25 Shreveport, LA Shreveport Municipal Auditorium
August 26 Baton Rouge, LA Baton Rouge River Center Theatre
September 8 Santa Rosa, CA Luther Burbank Center for the Arts
September 9 Stockton, CA Bob Hope Theatre
September 12 San Francisco, CA Warfield Theatre
September 13 Thousand Oaks, CA Thousand Oaks Civic Arts Plaza
September 15 Bakersfield, CA Fox Theater
September 19 San Diego, CA Poway Center for the Arts
September 21 Wichita Falls, TX Memorial Auditorium Wichita Falls
September 22 Amarillo, TX Amarillo Civic Center
September 29 Corpus Christi, TX Selena Auditorium
September 30 Houston, TX Cullen Performance Hall
October 6 Topeka, KS Topeka Performing Arts Center
October 7 Sioux City, IA Orpheum Theatre
October 13 Champaign, IL The Virginia Theatre*
October 14 Evansville, IN Victory Theatre**
October 20 Dodge City, KS United Wireless Center
October 21 Wichita, KS Hartman Arena
October 27 Knoxville, TN Knoxville Civic Auditorium
October 28 Huntsville, AL Mark C. Smith Concert Hall
November 3 Saginaw, MI Dow Events Center Theater
November 4 Toledo, OH Stranahan Theater
November 10 Waukegan, IL Genesee Theatre
November 11 Appleton, WI Fox Cities Performing Arts Center
November 17 Madison, WI Capitol Theater
November 18 Minneapolis, MN State Theatre
November 24 Buffalo, NY University at Buffalo Center for the Arts
November 25 Akron, OH The Goodyear Theater
December 1 North Charleston, SC North Charleston Performing Arts Center
December 2 Jacksonville, FL Florida Theatre
December 8 Pembroke Pines, FL Pembroke Pines City Center
December 9 The Villages, FL Sharon L. Morse Performing Arts Center
*Public On Sale is April 7 at 10AM local time
**Public On Sale is April 14 at 10AM local time
For more information on KANSAS and the Leftoverture 40th Anniversary Tour,
please visit:
www.kansasband.com
www.facebook.com/kansasband
www.twitter.com/kansasband