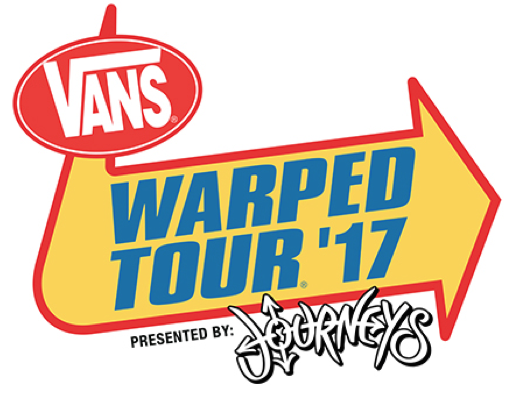 The entire lineup for 2017's Vans Warped Tour, presented by Journeys, was revealed yesterday via a LIVE webcast, direct from Full Sail Live, the state-of-the-art performance venue on the campus of Full Sail University in Winter Park, FL. Fans in attendance were overjoyed to see the lineup for this year include not only current favorites and promising up and comers, but a deep list of legacy acts spanning the tour's 23 year history. Blessthefall, Memphis May Fire, Jule Vera, Stacked Like Pancakes and Microwave also attended the live stream and performed during the webcast.
Now in its 23rd year, the Vans Warped Tour continues to solidify itself as the must attend festival over summer for rock and music lovers alike.
The Entertainment Institute will return to the 2017 tour as well, hosting educational workshops and Q+A's hosted by the industry's most successful writers, artists, and photographers. A full listing of the guru's hosting each workshop is available at http://www.thinktei.com/warpedtour
Tickets for this year's tour on are sale now and can be purchased at vanswarpedtour.com
The 41-date tour will commence June 16th in Seattle, WA and end on August 6th in Pomona, CA.
2017 Vans Warped Tour Line Up - Confirmed Performance Dates for each band and stage:
Journeys Left Foot Stage
Attila: 6.16 - 7.2, 7.6 - 8.6
Bowling For Soup: 6.27 - 7.2, 7.26, 7.27, 7.29,7.30
CKY: 6.16 - 8.6
Futuristic: 6.16 - 6.23, 6.25 - 8.6
Hawthorne Heights: 6.16 - 8.6
I Prevail: 6.16 - 8.6
Jule Vera: 6.16 - 8.6
Never Shout Never (Throwback Set): 6.27 - 7.7
New Years Day: 6.16 - 8.6
Sammy Adams: 6.16 - 7.28, 8.1 - 8.6
Watsky: 6.17 - 7.14, 7.16 - 7.18, 7.20, 7.21, 7.23 - 8.6
Journeys Right Foot Stage
American Authors: 6.16 - 7.19, 7.21 - 8.6
Andy Black: 6.16 - 8.6
Beartooth: 6.28 - 8.6
Dance Gavin Dance: 6.16 - 8.6
Goldfinger: 6.16, 6.17, 8.4 - 8.6
Hands Like Houses: 6.16 - 8.6
Memphis May Fire: 6.16 - 8.6
Neck Deep: 6.16 - 8.6
Our Last Night: 6.16 - 8.6
Save Ferris: 6.22 - 8.1, 8.5
Streetlight Manifesto: 6.24
Skullcandy Stage
Alestorm: 6.21 - 8.6
Bad Seed Rising: 6.16 - 7.4
Barb Wire Dolls: 6.16 - 8.6
Big D and The Kids Table: 7.6 - 7.16
Microwave: 6.16 - 8.6
Riverboat Gamblers: 7.29, 7.30
Sonic Boom Six: 6.16 - 8.6
Stacked Like Pancakes: 7.16 - 8.6
Street Dogs: 7.6 - 7.16
Twilight Creeps: 8.4 - 8.6
War On Women: 6.16 - 8.6
The White Noise: 6.16 - 8.6
William Control: 6.16 - 8.6
Hard Rock Stage
The Adolescents: 6.16 - 8.6
The Alarm: 7.7 - 7.16, 8.4 - 8.6
Anti-Flag: 6.27 - 7.24
The Ataris: 6.16 - 8.1
Bad Cop / Bad Cop: 6.16 - 8.6
The Dickies: 6.16 - 6.22, 6.24, 6.25
Doll Skin: 6.16 - 6.25
Fire From The Gods: 6.16 - 8.6
Municipal Waste: 6.16 - 7.2, 7.6 - 8.6
Sick Of It All: 6.21 - 8.6
Strung Out: 6.16 - 7.11, 8.4 - 8.6
Suicide Machines: 7.18 - 7.21
T.S.O.L.: 7.22 - 8.6
Valient Thorr: 6.16 - 8.6
Mutant North Stage
The Acacia Strain: 6.16 - 8.6
Being As An Ocean: 6.16 - 8.6
Candiria: 6.21 - 8.6
Counterparts: 6.16 - 8.6
Fit For A King: 6.16 - 8.6
Hatebreed: 6.21 - 8.6
Silent Planet: 6.16 - 8.6
Stick To Your Guns: 6.16 - 7.2, 7.6 - 8.6
Sylar: 6.16 - 8.6
Mutant South Stage
After The Burial: 6.16 - 8.6
Blessthefall: 6.16 - 8.6
Carnifex: 6.16 - 8.6
Emmure: 6.16 - 8.6
GWAR: 6.16 - 8.6
Hundredth: 6.16 - 8.6
Silverstein: 6.16 - 8.6
Sworn In: 6.16 - 8.6
Too Close To Touch: 6.16 - 8.6
Full Sail Stage
Bad Omens: 7.4 - 7.24
Boston Manor: 6.16 - 8.6
Carousel Kings: 6.16 - 7.4
Courage My Love: 6.16 - 8.6
Creeper: 6.16 - 8.6
Dukes, The: 6.27 - 7.2
Eternal Boy: 7.14
Fantastic Plastics, The: 6.16 - 7.2
Farewell Winters: 6.16 - 8.6
Feeki: 6.16 - 8.6
Gospel Youth, The: 6.16 - 8.6
Knocked Loose: 6.16 - 8.6
Montage: 7.18
Movements: 6.16 - 8.6
Naked Walrus: 6.23, 6.24
One Last Shot: 7.7 - 7.10
Playboy Manbaby: 6.22, 8.6
Sarah and The Safe Word: 6.29
Separations: 7.6 - 7.24
Shattered Sun: 7.26 - 8.6
tiLLie: 7.26 - 8.6
Trophy Eyes: 6.16 - 8.6
The Waves: 7.18
VANS WARPED TOUR DATES:
Tickets on sale at 10am local time on Wednesday March 22nd at vanswarpedtour.com
6.16 SEATTLE, WA
6.17 SALEM, OR
6.21 ALBUQUERQUE, NM
6.22 PHOENIX, AZ
6.23 LAS VEGAS, NV
6.24 SALT LAKE CITY, UT
6.25 DENVER, CO
6.27 NASHVILLE, TN
6.28 METAIRIE, LA
6.29 ATLANTA, GA
6.30 ORLANDO, FL
7.01 ST. PETERSBURG, FL
7.02 WEST PALM BEACH, FL
7.04 WILMINGTON, NC
7.06 CHARLOTTE, NC
7.07 CAMDEN, NJ
7.08 WANTAGH, NY
7.09 HARTFORD, CT
7.10 SCRANTON, PA
7.11 VIRGINIA BEACH, VA
7.12 MANSFIELD, MA
7.13 DARIEN CENTER, NY
7.14 BURGETTSTOWN, PA
7.15 HOLMDEL, NJ
7.16 COLUMBIA, MD
7.18 CUYAHOGA FALLS, OH
7.19 CINCINNATI, OH
7.20 NOBLESVILLE, IN
7.21 AUBURN HILLS, MI
7.22 TINLEY PARK, IL
7.23 SHAKOPEE, MN
7.24 MILWAUKEE, WI
7.26 MARYLAND HEIGHTS, MO
7.27 BONNER SPRINGS, KS
7.28 DALLAS, TX
7.29 SAN ANTONIO, TX
7.30 HOUSTON, TX
8.01 LAS CRUCES, NM
8.04 MOUNTAIN VIEW, CA
8.05 SAN DIEGO, CA
8.06 POMONA, CA