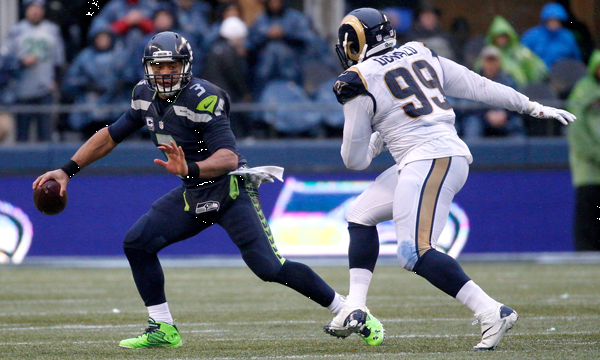 The Rams will make their return to Los Angeles for the first regular season game in the region in 22 years when they host the Seattle Seahawks on Sunday, September 18 at 1:05 PM PT at the Los Angeles Memorial Coliseum. The Rams Homecoming game will air on FOX 11/ KTTV in Los Angeles and also will be broadcast in English on ESPNLA 710 AM and100.3 FM The Sound, and in Spanish on ESPN Deportes 1330 AM.

Below are some of the highlights taking place at Sunday's game which is sponsored by American Airlines, one of the Rams' 10 Homecoming partners. For more information about the Rams gameday experience, please visit www.therams.com/gameday

RAMS TO HONOR HALL OF FAME PLAYERS
In the first regular season game back home in Los Angeles in more than two decades, the Rams will honor their Hall of Fame players. The Hall of Fame's Mission is to "Honor the Heroes of the Game, Preserve its History, Promote its Values & Celebrate Excellence Everywhere!"

ERIC DICKERSON, MARSHALL FAULK, TOM MACK, ORLANDO PACE, JACKIE SLATER and JACK YOUNGBLOOD will kick off a new Rams tradition and will help light the torch in the Peristyle end of the Coliseum following the coin toss.

Family members of Hall of Famers GEORGE ALLEN, DEACON JONES and MERLIN OLSEN also will be in attendance at the game.

During Halftime, Pro Football Hall of Fame President DAVID BAKER will present recently enshrined Pace with his Hall of Fame Ring of Excellence. Also, the Hall of Fame will present the new Ring of Excellence to Dickerson, Faulk, Mack, Slater and Youngblood.

There are three physical icons that represent an individual's enshrinement into the Pro Football Hall of Fame. Each Hall of Famer receives their Hall of Fame Gold Jacket two nights before the Enshrinement in Canton each summer. The bronze bust is unveiled during the Enshrinement ceremony held inside Tom Benson Hall of Fame Stadium and then placed permanently on display inside the Hall of Fame. The third symbol, the Hall of Fame Ring of Excellence is presented to a Hall of Famer during a special presentation at his team's stadium.

THROWBACK UNIFORMS TAKE THE FIELD FOR HOMECOMING GAME
To commemorate the first Rams regular season game in Los Angeles in more than two decades, the team will wear royal blue and yellow "throwback" uniforms of the '80s and '90s this Sunday.

Except for two games designated for these "throwback" uniforms, the Rams will wear white uniforms for home games at the Coliseum. The white uniforms are a modern nod back to the team's history in Los Angeles, when the Rams would wear white on white during the days of the Fearsome Foursome.
RED HOT CHILI PEPPERS & CEE LO GREEN TO PERFORM PREGAME
Los Angeles' own RED HOT CHILI PEPPERS will help kick off the Rams' inaugural season back home in Southern California with a pregame performance live on the field. Fans should be in their seats by 12:35 PM PT for this special performance.

Grammy-award winning artist CEE LO GREEN will perform the National Anthem prior to kickoff of this historic game.

LOS ANGELES-AREA OLYMPIANS HONORED
As a tribute to Olympians past and present, the Rams will recognize in-stadium athletes who are helping to bring the Olympics back to Los Angeles in 2024. The Olympians scheduled to attend include:
· Silver Medalist, swimmer HALEY ANDERSEN
· Bronze Medalist, Gymnast RAJ BHAVSAR
· Olympian, canoe kayak TAMARA CHRISTOPHERSON
· Gold and Silver Medalist, swimmer JESSICA HARDY
· Gold and Silver Medalist, hurdler DAWN HARPER-NELSON
· 4-time Gold Medalist, sprinter MICHAEL JOHNSON
· Olympian, soccer star COBI JONES
· 1-time Silver Medalist and 4-time Gold Medalist, including two in Los Angeles, diver GREG LOUGANIS
· Olympian, swimmer DOMINIK MEICHTRY
· Silver Medalist, Gymnast SAMANTHA PESZEK
· Gold Medalist, Gymnast KYLA ROSS