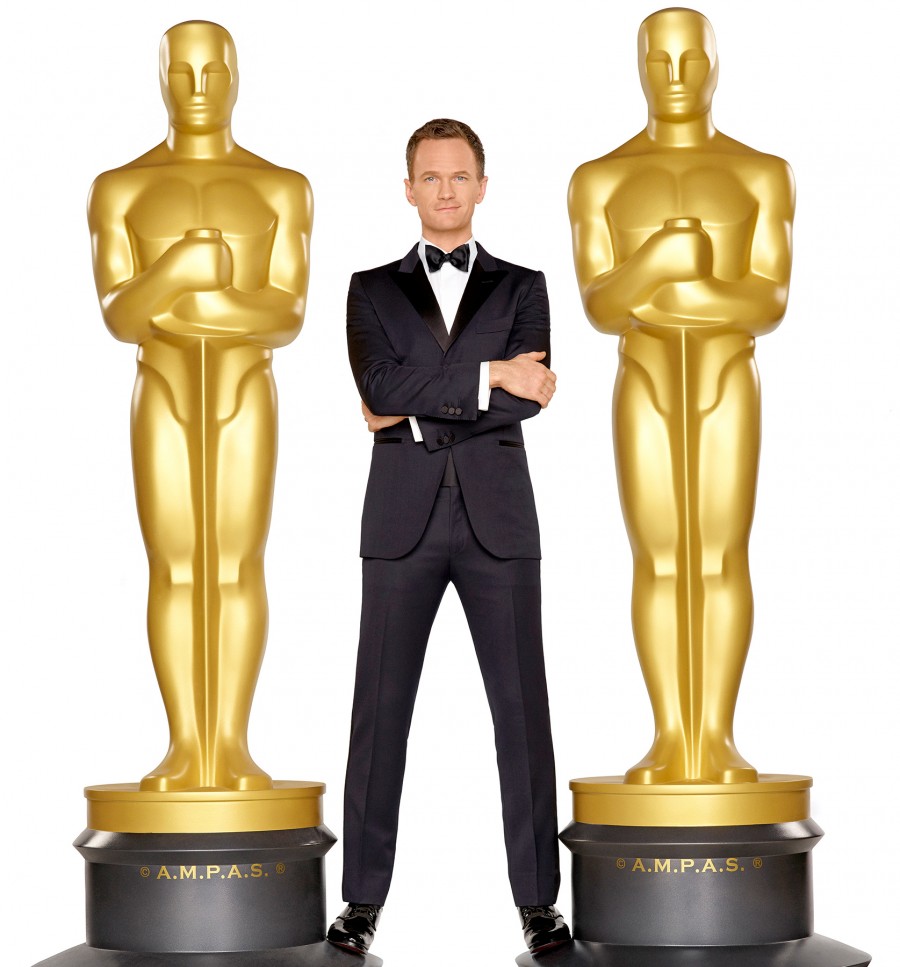 Photo: ABC
On Sunday night, February 22nd, the biggest night in showbiz took place under storm clouds in Hollywood: The 87th Academy Awards aired on ABC from The Dolby Theatre at the Hollywood & Highland Center. Host, Neil Patrick Harris successfully lead the evening as host and appropriately started with an opening musical number; taking the audience down movie memory lane. Anna Kendrick and Jack Black joined in, singing a similar tune from the Oscar nominated, "Into The Woods."
This year there were no A-list selfies or pizza deliveries, but Neil Patrick Harris did manage to take the stage in his "Birdman"-like underwear at one point in the evening. Beautiful musical performances were given by Adam Levine, singing "Lost Stars" from the film "Begin Again," and an emotional "Glory" with John Legend and Common from the nominated, "Selma." Lady Gaga sang "The Hills Are Alive," celebrating 50 years since the making of "The Sound of Music."
Making light and fun of last year's pronunciation mix-up, Idina Menzel hilariously mispronounced John Travolta's name. Many winners used their speech time to promote activism. Patricia Arquette passionately spoke for equality in wages for women and Laura Poitras, director of "Citizenfour" thanked Edward Snowden. With a handful of emotional and hilarious moments, the golden star-studded night was, as always, long... but a success, nonetheless.
And the winners are...
BEST PICTURE - 
Birdman

PERFORMANCE BY AN ACTOR IN A SUPPORTING ROLE
J.K. Simmons - Whiplash
PERFORMANCE BY AN ACTRESS IN A SUPPORTING ROLE
Patricia Arquette - Boyhood
PERFORMANCE BY AN ACTOR IN A LEADING ROLE
Eddie Redmayne - The Theory Of Everything

PERFORMANCE BY AN ACTRESS IN A LEADING ROLE
Julianne Moore - Still Alice
BEST DIRECTOR
Birdman
Alejandro G. Inarritu
BEST ORIGINAL SCREENPLAY
Birdman
Alejandro G. Inarritu, Nicolas Giacobone, Armando Bo, Alexander Dinelaris
BEST ADAPTED SCREENPLAY
The Imitation Game
Graham Moore
BEST DOCUMENTARY FEATURE
CitizenFour
Laura Poitras, Mathilde Bonnefoy and Dirk Wilutzky
ACHIEVEMENT IN FILM EDITING
Whiplash
Tom Cross
ACHIEVEMENT IN CINEMATOGRAPHY
Birdman or (The Unexpected Virtue of Ignorance)
Emmanuel Lubezki
ACHIEVEMENT IN PRODUCTION DESIGN
The Grand Budapest Hotel
Production Design: Adam Stockhausen; Set Decoration: Anna Pinnock
BEST ANIMATED FEATURE FILM OF THE YEAR
Big Hero 6
Don Hall, Chris Williams and Roy Conli
BEST ANIMATED SHORT FILM
Feast
Patrick Osborne and Kristina Reed
ACHIEVEMENT IN VISUAL EFFECTS
Interstellar
Paul Franklin, Andrew Lockley, Ian Hunter and Scott Fisher
ACHIEVEMENT IN SOUND EDITING
American Sniper
Alan Robert Murray and Bub Asman
ACHIEVEMENT IN SOUND MIXING
Whiplash
Craig Mann, Ben Wilkins and Thomas Curley
BEST DOCUMENTARY SHORT SUBJECT
Crisis Hotline: Veterans Press 1
Ellen Goosenberg Kent and Dana Perry
BEST LIVE ACTION SHORT FILM
The Phone Call
Mat Kirkby and James Lucas
BEST FOREIGN LANGUAGE FILM OF THE YEAR
Ida (Poland)
ACHIEVEMENT IN MAKEUP AND HAIRSTYLING
The Grand Budapest Hotel
Frances Hannon and Mark Coulier
ACHIEVEMENT IN COSTUME DESIGN
The Grand Budapest Hotel
Milena Canonero
BEST ORIGINAL SCORE
The Grand Budapest Hotel
Alexandre Desplat