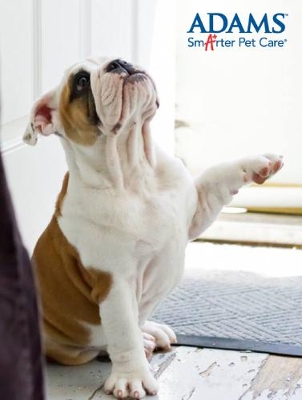 After weeks of reviewing more than 1,000 entries, the makers of Adams award-winning flea and tick control brand, revealed Cheryl Knapp from Bellingham, Washington is the grand prize winner of its Smart Pets Contest. Her entry showcased the smart talents of her English Bulldog, Ducky and won the exciting choice of $15,000 cash or a smart car plus smart pet bragging rights. Stardom for the clever canine begins today as a close-up of Ducky flashes for thousands of people from a huge digital billboard 23 stories above New York's famous Times Square. Earlier this year, the makers of Adams products put out the call-for-entries for the Smart Pets Contest through special events, advertising and online promotions
Over 1,000 entries poured in from across the country and after weeks of "fur-ious" competition, judges narrowed the field down to six finalists who were awarded a smart phone, $800 and a VIP trip to the "blue-carpet" Smart Pets Contest Awards Gala held in San Francisco on September 27."My dog Ducky is a very smart dog," commented Cheryl Knapp. "One of my greatest joys is teaching her new things. We love making people smile and hope to inspire them to learn how much their pets can learn. It's been exciting to compete in the Smart Pets Contest and we are honored to take home the top prize." 
"Ducky is a great ambassador for all the extraordinary pets that were entered in the competition," said Josh Nelson, Senior Brand Manager for Pet Health, Adams Pet Products. "Behind every smart pet is a smart pet parent and we're pleased that so many joined us for this fun event." Pet lovers can check out all the top entries online at www.smarterpetcare.com as well as pick up Smarter Pet Care tips like the importance of being proactive with flea and tick treatment.