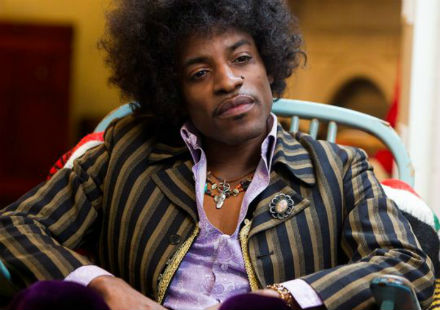 Considering how well the legacy of Jimi Hendrix has endured since his untimely death nearly forty-five years ago, it's almost inconceivable that his story has taken this long to reach the silver screen. But writer-director John Ridley has done just that with "Jimi: All Is By My Side," an enjoyably unorthodox biopic starring Andre Benjamin, best known as Andre 3000 of the influential hip hop duo, OutKast.

Now that we can stop fretting over whether a Hendrix biopic will ever be produced, let's focus on the more pressing matter: is it any good?

Yes and no. As an aesthetically pleasing, highly stylized piece of filmmaking aiming to capture the spirit of its subject, "Jimi" is a bullseye. Ridley employs all the cinematic tools at his disposal – photography, editing, sound design, music – to peel back the iconic image on the poster and get to the heart of the man behind the myth. But as an overall film, "Jimi" is less rewarding, with a central character whose laid-back attitude creates a low-stakes storyline, and a second act that lags on account of its obsessive focus on Hendrix's many girl problems. This Jimi Hendrix experience is best suited for fans of the artist, the musically inclined, or for those curious of how Andre Benjamin fares in the title role (he does just fine).

Operating on the premise that the time leading up to his fame would provide a more illuminating look into its subject than a traditional life-and-death biopic, Ridley's film ("Jimi") chronicles a year in the legend's life leading up to his breakout American debut at the 1967's Monterey Pop Festival.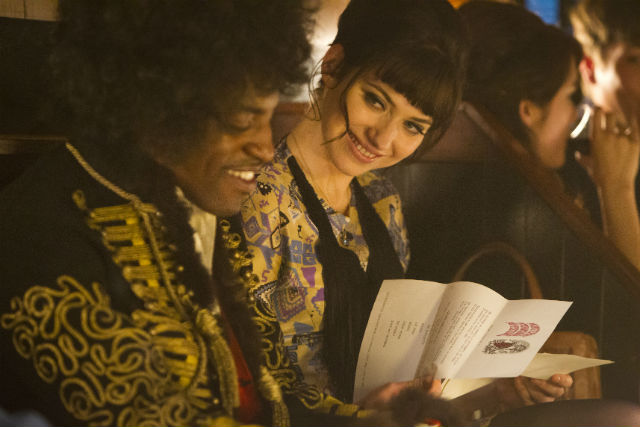 The year: 1966. The place: New York City's famous Cheetah Club. We meet Hendrix as he performs with Curtis Knight and the Squires, one of many R&B acts he played for in his journeyman days. Sitting in the audience is Linda Keith (Imogen Poots), the then-girlfriend of Rolling Stones guitarist Keith Richards, who instantly recognizes Hendrix's potential. After encouraging the shy young artist to pursue a solo career instead of wasting his talents playing second fiddle to lesser musicians, she introduces him to Chas Chandler (Andrew Buckley) of The Animals, who at the time was leaving his band to pursue producing and talent management. Together, they travel to London to shape Jimi's sound and recruit the band that would become The Jimi Hendrix Experience.

Upon arriving in London, Jimi is immediately inspired by the artist-friendly atmosphere that pervades the city– a far cry from America, where audiences were very rigid in their musical preferences and discouraged the blending of genres. Fully embracing the sex, drugs and rock 'n' roll credo of the time, Jimi experiments with all that the counter-culture has to offer, and in the process really comes into his own as a musician. As Hendrix pushes himself further and further into a new musical stratosphere, creating the sound that would become so influential to future generations, the film simultaneously charts his troubled history with women, particularly long-term girlfriend, Kathy Etchingham (Hayley Atwell).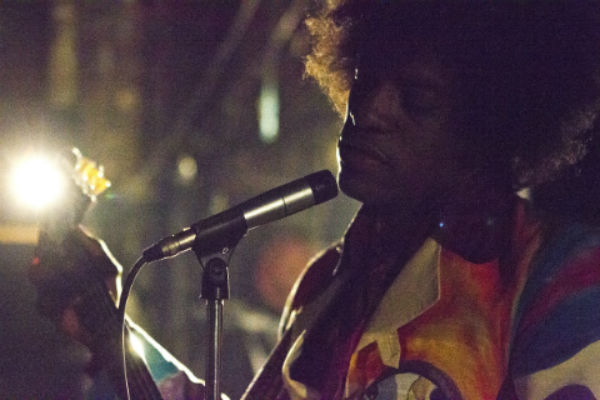 Coming off the heels of his Academy Award winning screenplay for "12 Years A Slave," writer-director John Ridley takes a cue from his iconic subject and employs a daring and experimental narrative style that is very ambitious for a directorial debut. Ridley creates a jolting, disorienting effect with his use of editing and silence, often fading to black or cutting the sound at unexpected moments in the story. This, along with the episodic screenplay, effectively provides a more impressionistic and intimate depiction of the subject by giving the viewer quick flashes of his life at this critical moment in his career. Rich in period detail, Ridley succeeds in evoking the 60's milieu with his use of archival footage of the civil rights movement as well as performances of Hendrix's musical influences.  

Andre Benjamin certainly isn't a dead ringer for Jimi Hendrix – he's shorter and darker in skin tone than the icon – but he has his accent and mannerisms down pat; and when you add his musical talent to the mix, not to mention his hippy attire, it's easy to drop your skepticism and let the performance take over. It takes a little getting used to, especially for those who are familiar with Benjamin's work with OutKast, but before long the viewer fully accepts the actor in the role.

The film is at its best in the music-centric scenes that focus on the burgeoning artist's transformation from shy backup guitarist to the prodigy we know him as today. This transformation is perfectly encapsulated in one standout scene, where Hendrix finally shakes his shyness during a performance and his stage presence emerges right before our eyes.

Although the soundtrack is top-notch, using many of the songs Hendrix covered during this stage in his career, conspicuously absent from the film are Hendrix's most popular numbers – the result of either budgetary restrictions or the filmmaker being denied musical rights by the Hendrix estate.

By Lucas Mirabella

116 minutes; Rated R for language including sexual references, and some drug content.

http://www.openroadfilms.com