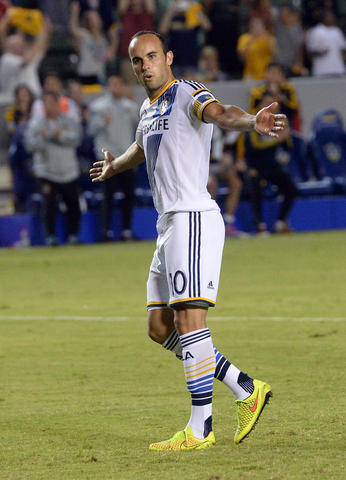 After 15 years on the pitch, Los Angeles Galxay star midfielder, Landon Donovan is hanging up his cleats and saying goodbye to socccer. The 32 year-old Donovan played his last game as a professional against the Seattle Sounders on October 19th at the Galaxy's StubHub Center in Carson, California. After leading 2-0 the majority of the match, the Galaxy couldn't hold on and would squander their two goal lead to end the game in a 2-2 tie. Landon made his debut into the world of professional soccer at the youthful age of 17 playing for the United States U-17 men's national team in the 1999 FIFA U-17 World Championship. His spectacular performance in that tournament earned him the Player of the Tournament crown in addtion to a contract offer to play for the German club Bayer Leverkusen of the Bundesliga.
Donovan spent 6 years with the german team, but the majority of his acutal playing time came while he was on loan to the San Jose Earthquakes of the MLS. In 2005, Landon signed with the Los Angeles Galaxy, where he would spend the rest of his playing days. Perhaps the greatest soccer player to come from the United States, Landon Donovan ends his career as one of the most decorated players in the sports' history. Some of his achievements include; Major League Soccer's all-time leading goal scorer with an unprecedented 136 goals, 5 MLS Cup Championships, the all-time leader in scoring and assists for the US Men's National Team, four-time consecutive winner of the US Soccer Player of the Year award, and the only seven-time winner of the Honda Player of the Year award.
"I was excited and energetic in the first part of the game, but I think I wore out as that game went on," said Landon. "I need to now really step back and focus. This has all been incredible. I wouldn't have it any other way, but I want to finish the season right. It's time to step back now. You guys won't see as much of me -- fortunately for you guys -- in the next few weeks. We'll get back to business."