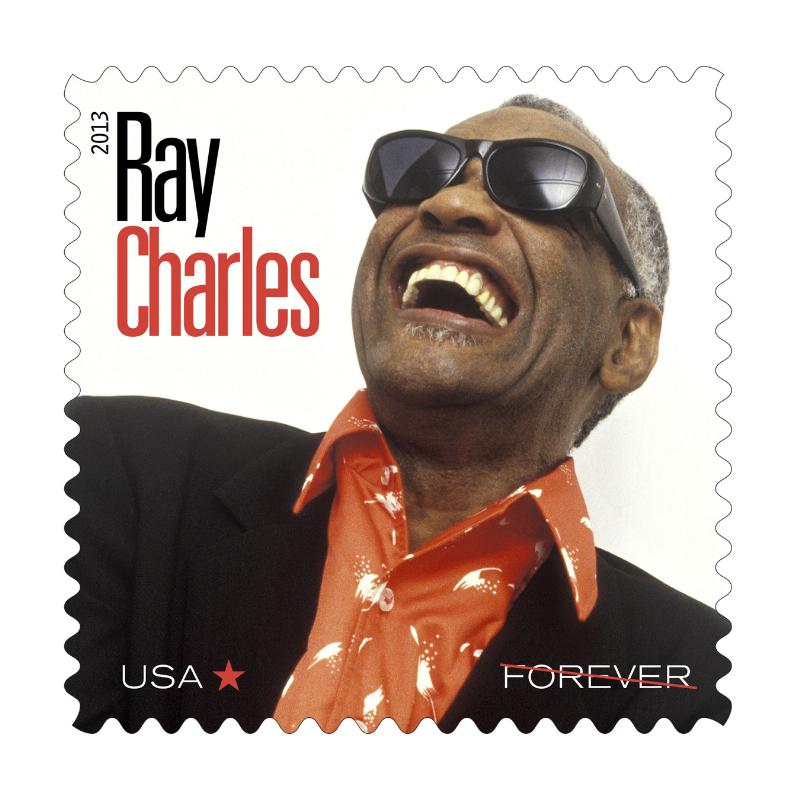 On what would have been his 83rd birthday, the "father of soul," Ray Charles, returns to two "stamping ovations" today as the latest inductee into the Postal Service's Music Icons Forever Stamp Series. Chaka Khan will perform at the Los Angeles first-day-of-issue dedication ceremony and Ashanti will highlight the Atlanta event.
The ceremonies will take place at the Ray Charles Performing Arts Center at Morehouse College in Atlanta at 11 a.m. EDT, and The GRAMMY Museum at L.A. LIVE in Los Angeles at 1 p.m. PDT today. Both events are free and open to the public.
Available today in sheets of 16, customers may purchase the stamps at usps.com/stamps, at 800-STAMP24 (800-782-6724) or at Post Offices nationwide.
In Atlanta, GRAMMY® award-winning singer/songwriter, actor and actress Ashanti will perform and pay tribute to Charles (1930 – 2004) and perform a medley of his songs and the Morehouse College Glee Club will sing his hit which is also the official state song — "Georgia on My Mind." At the GRAMMY Museum in Los Angeles, where Charles has been recognized with 17 GRAMMY Awards, Ten-time GRAMMY award winner, singer, songwriter, actor and activist Chaka Khan will sing, "I'll Be Good to You." Musicians from the GRAMMY Museum's educational program Summer Sessionsalso will perform. In 1989, Charles and Khan re-recorded the 1976 hit written by the Brothers Johnson. With the remake of "I'll Be Good to You," produced by Quincy Jones, the song became another number one R&B hit on the Billboard charts and was Charles' first number one R&B hit in 24 years. In 1991, Charles and Khan won a GRAMMY Award for "I'll Be Good to You" for the Best R&B Performance by a Duo or Group with Vocals.
"Frank Sinatra, himself a stamp honoree, once characterized Ray Charles as 'the only true genius in show business,' and certainly, if anyone was a musical genius, it was Ray Charles," said U.S. Postal Service Judicial Officer William Campbell who will be dedicating the stamp at the Atlanta ceremony. "Despite being blind and having a young life marked by tragedy, hardship and tremendous challenges, Ray Charles went on to have a remarkable 58-year career playing music that blurred the lines of jazz, gospel, blues and, in later years, country. In doing so, he became the personification of the American Dream."
"It is with great pleasure that we honor a man who not only had an incalculable impact on the face of contemporary soul, R&B, gospel and rock, but also touched people individually," said U.S. Postal Service Sales Vice President Cliff Rucker who will dedicate the stamp at the Los Angeles event. "The third in our new Music Icons series, Ray Charles' stamp, another tribute to his legacy, will join those of distinguished performers Lydia Mendoza and Johnny Cash, which were dedicated earlier this year. And how fitting that Ray Charles and Johnny Cash, who in life were such great friends and recorded two duets together, will be reunited in the form of postage stamps."