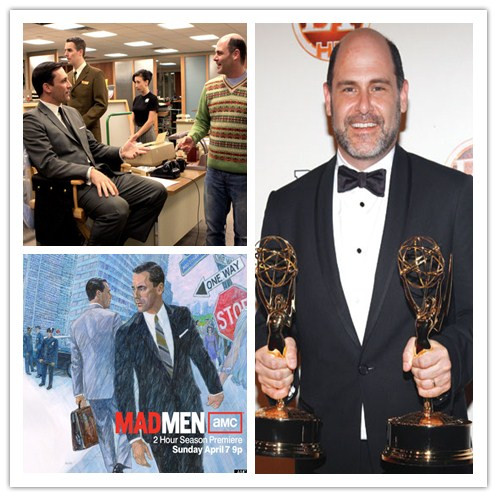 We have waited long enough for the return of "Mad Men" on AMC. The hit drama is back this Sunday April 7th with a 2 hour premiere at 9/8C. With a six season star series, the creator Matt Weiner has a lot to share. After dealing with rejection for years as a struggling writer, "The Sopranos" gave him his big break. Just in time for the season six premiere of "Mad Men", he sat down with Jeanne Wolfe from The Saturday Evening Post to discuss his fame, inspirations, and the popular TV show. Here's a glance at Wolfe's words with Weiner...
Although their is a large creative team behind MM, Weiner receives a lot of the credit but wishes everyone was praised, "I try to remember that I don't always give enough praise. I get so much attention for my contribution to the series, and I wish I could share the glory a little bit more. I always mention the work of my producers and co-writers but it seldom gets printed. And I want people to know that that's not my fault. That I try to share the wealth."
As far as the new season of MM is concerned and secrets he can or can't reveal, the writer says, "I'm not trying to tease people. I just don't want to give away to viewers what's coming because not knowing what is going to happen is part of what keeps people interested. At the beginning of a season I'm always like, 'I'm starting a whole new story. If you don't like it, then it's not for you. But it's not because it's not as good as last year. It's just different.' No matter what happens you'll be able to understand it."
And where does the future of "Mad Men" stand? "I am extremely aware that the end is coming but not when. I've always had to sweat. I never have been sure 'Mad Men' was going to go on again. I live and die by this thing. I want people to say, 'That was the best season of the show ever.' I want them to progressively say during the season, 'That was the best episode of the show ever!' I am always aspiring to keep it new and fresh. But you're going to lose if you're always trying to top yourself. You end up doing something crazy."
We hope this season will be as good as the last. Tune in Sunday night...