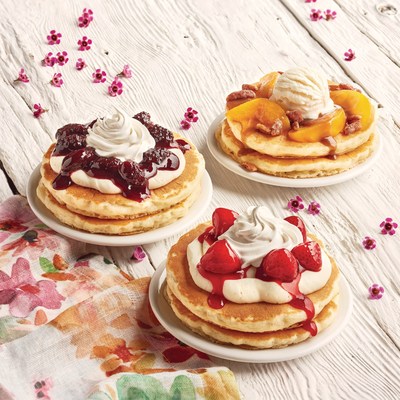 The culinary team at IHOP® have created three new delicious pancakes!
Spring Fling Pancakes combine vibrant flavors, tart blackberries swirled with real cheesecake cream and strawberries layered over a sweet vanilla bean mousse, with airy, freshly-made buttermilk pancakes to create three distinctive dishes in a way that only the all-day breakfast champion can deliver:
Blackberry Cheesecake: tart, crisp blackberries mingle with real cheesecake cream atop a stack of delicious buttermilk pancakes.
Strawberry & Cream: a creamy vanilla bean mousse layered between fluffy buttermilk pancakes, creating the perfect base for glazed strawberries finished off with whipped topping.
Sweet Peach Praline: hot buttermilk pancakes topped with a mix of peaches, candied pecans coated in a buttery brown sugar glaze, and a dollop of whipped topping.
Spring Fling Pancakes will be available at IHOP restaurants across the country until June 4.
Price and participation varies.