Weekend one of Coachella kicks off. Come one come all bloggers and digital influencers documenting the music festival on their Instagram stories and Snapchat filters...
If you can't make it to the desert or missed out on tickets, Coachella will webcast a number of this weekend's performances live (PST) on YouTube. https://www.youtube.com/user/coachella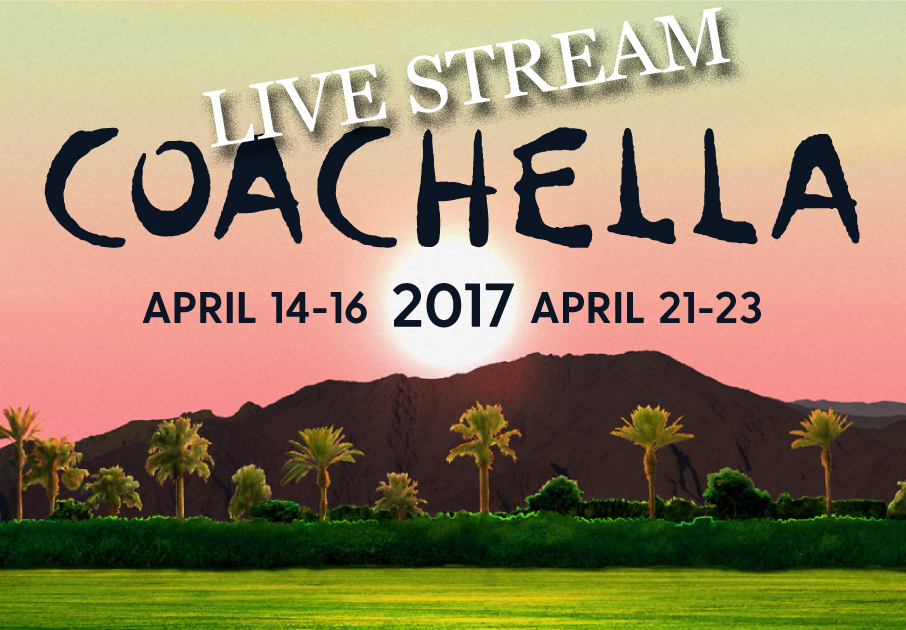 Among the acts scheduled to appear on the live stream: Radiohead, Kendrick Lamar, Lady Gaga, Hans Zimmer (!), Lorde, The xx, Bon Iver, Future, ScHoolboy Q, DJ Khaled, New Order, Justice, Father John Misty, Mac DeMarco, Future Islands, Crystal Castles, DJ Shadow, Röyksopp, Gucci Mane, Sampha, Róisín Murphy, Warpaint, Local Natives, Bonobo, Moderat, Kaytranada, Car Seat Headrest, Little Dragon, Tycho, Whitney, Preoccupations, and the new No Doubt-AFI supergroup DREAMCAR...
Find the full schedule below.
Friday, April 14th:
03:35 – Tennis (1)
03:35 – Preservation Hall Jazz Band (2)
03:35 – Klangstof (3)
04:05 – Joseph (3)
04:10 – King Gizzard & The Lizard Wizard (1)
04:25 – Sampha (2)
04:50 – The Lemon Twigs (3)
05:00 – Bonobo (1)
05:10 – Broods (2)
05:35 – SOHN (3)
05:50 – Mac DeMarco (1)
06:00 – Francis and the Lights (2)
06:50 – Oh Wonder (2)
06:55 – Glass Animals (1)
07:20 – Big Gigantic (3)
07:40 – Banks (2)
07:45 – Father John Misty (1)
08:10 – Crystal Castles (3)
08:30 – Richie Hawtin (2)
08:45 – Phantogram (1)
09:00 – Mac Miller (3)
09:30 – Jagwar Ma (2)
09:35 – The xx (1)
09:55 – Steve Angello (3)
10:20 – DJ Shadow (2)
10:40 – Radiohead (1)
10:55 – Empire of the Sun (3)
11:15 – Capital Cities (2)
11:50 – Dillon Francis (3)
12:10 – D.R.A.M. (2)
Saturday, April 15th:
03:35 – Local Natives (1)
03:35 – Arkells (2)
03:35 – Blossoms (3)
03:55 – Kaleo (2)
04:20 – Shura (3)
04:30 – Chicano Batman (1)
04:45 – Car Seat Headrest (2)
05:00 – Banks & Steelz (3)
05:15 – The Head and the Heart (1)
05:40 – The Atomics (2)
05:45 – Autograf (3)
06:10 – Bastille (1)
06:25 – Roisin Murphy (2)
06:35 – Little Dragon (3)
07:15 – DREAMCAR (2)
07:20 – Two Door Cinema Club (1)
07:25 – Mura Masa (3)
08:05 – Moderat (2)
08:15 – Gryffin (3)
08:20 – Future (1)
09:05 – Warpaint (2)
09:10 – Tory Lanez (3)
09:15 – ScHoolboy Q (1)
09:55 – Tycho (2)
10:00 – Röyksopp (3)
10:15 – Bon Iver (1)
10:45 – DJ Snake (2)
10:55 – Martin Garrix (3)
11:25 – Lady Gaga (1)
12:00 – Gucci Mane (2)
12:05 – Classix (3)
Sunday, April 16th:
03:35 – Ezra Furman (1)
03:35 – Grace Mitchell (2)
04:15 – Anna Lunoe (3)
04:25 – Whitney (1)
04:25 – Preoccupations (2)
05:15 – Toots & The Maytals (1)
05:15 – Goldlink (2)
05:15 – NAO (3)
06:10 – Grouplove (1)
06:10 – Jack Garratt (2)
06:55 – Kaytranada (3)
07:00 – Kiiara (2)
07:20 – Future Islands (1)
07:55 – Tove Lo (2)
08:10 – DJ Khaled (3)
08:15 – Porter Robinson & Madeon (1)
08:40 – Hans Zimmer (2)
09:00 – Galantis (3)
09:20 – Lorde (1)
09:45 – Kehlani (2)
09:45 – Justice (3)
10:25 – Kendrick Lamar (1)
10:30 – New Order (2)
11:05 – Marshmello (3)