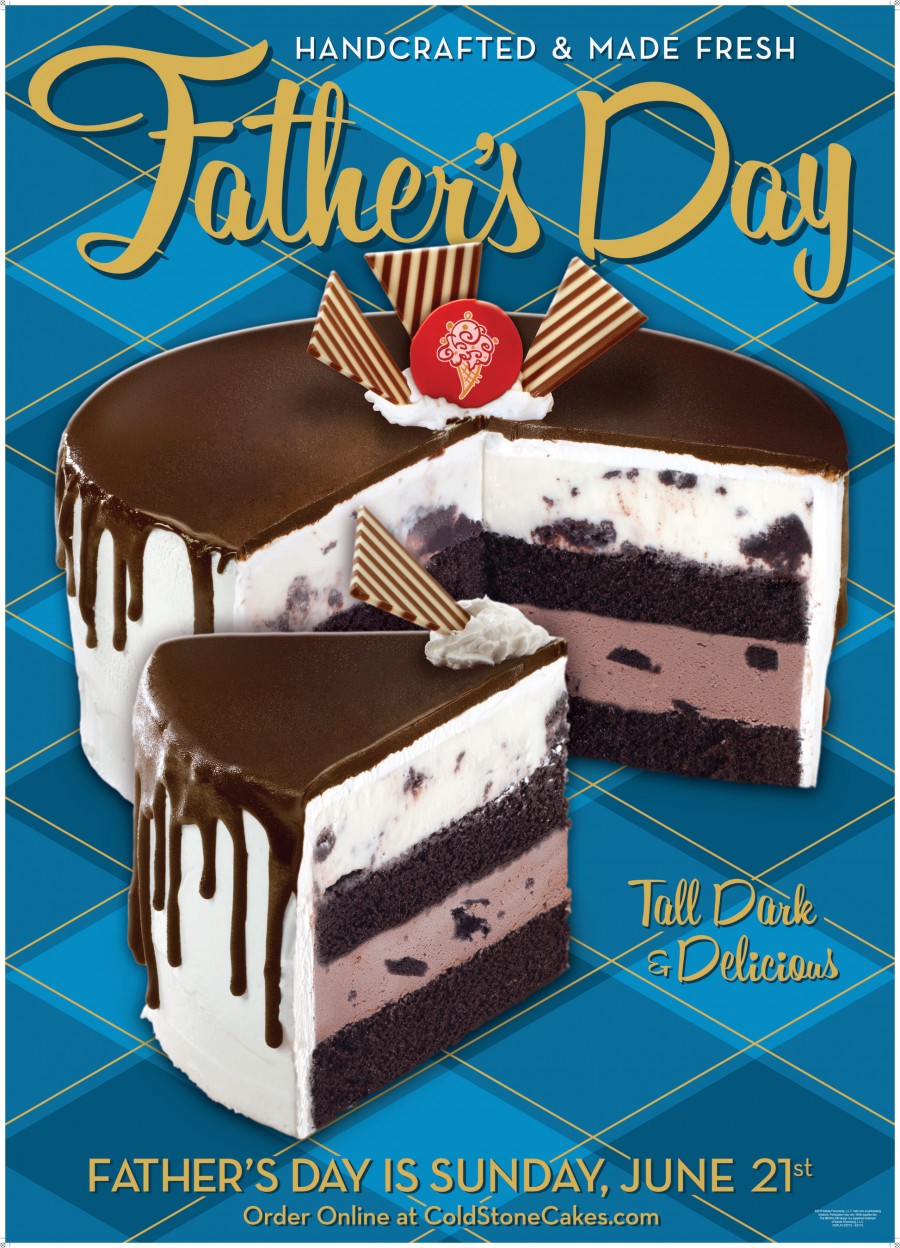 Start planning for Father's Day 2015... Sunday June 21st! Cold Stone Creamery is returning with their Tall, Dark & Delicious™ cake for Dad! Ice cream lovers across the country definitely will be ready for summer with these tasty treats available now at all stores nationwide.
"This summer we're inviting our guests to Mix It Up in our stores with our sensational new line up of mix-ins featured in new summer Creations®," said Kate Unger, senior vice president of marketing for Cold Stone Creamery."Salted Butterscotch, Nestle® Drumstick® Pieces, Chocolate Covered Sea Salted Pretzels and Snickerdoodle Cookie Pieces are all great new additions to any ice cream, sorbet or frozen yogurt treat and we are absolutely thrilled to bring these new mix-ins to our fans. With fresh batches of ice cream being made in every store, our guests are in for an endless summer of fantastic flavor possibilities with a variety of mix-ins to choose from with each visit."
Additionally, Cold Stone Creamery will celebrate Father's Day with their famous Tall, Dark & Delicious™ cake; one that is sure to both surprise and delight any Dad or special man deserving to be celebrated.
"Each of our hand-crafted cakes is made fresh to order using only the best in premium quality ingredients. The Tall, Dark & Delicious™ cake that we are featuring this holiday is a great way to honor that someone special because it tastes out-of-this-world and is best enjoyed by bringing together Dad and all those who love him around the table together," said Unger.
The Mix It Up Creations™ will be in stores from May 27 – September 8, 2015, and the Father's Day Cake will be in stores and online (www.ColdStoneCakes.com) from May 27 – June 21, 2015.
Promotional Creations™:
Salted Butterscotch Brownie™ – French Vanilla Ice Cream, Salted Butterscotch, rich Fudge Brownie and Roasted Almonds.
Cake Batter™ Drumstick® Delight – Cake Batter Ice Cream®, Salted Butterscotch, Nestle® Drumstick® pieces and Cookie Dough.
Snickerdoodle Shortcake™ – Strawberry Ice Cream, Whipped Topping, Snickerdoodle Cookie pieces and fresh Strawberries.
Peanut Butter Pretzel™ – Sweet Cream Ice Cream, rich Fudge ribbons, Reese's® Peanut Butter Cups and Chocolate Covered Sea Salted Pretzels.
Gooey Chocolate Pretzel™ – Chocolate Ice Cream, creamy Caramel ribbons, Roasted Almonds and Chocolate Covered Sea Salted Pretzels.
Promotional Cake:
Tall, Dark & Delicious™ – moist Devil's Food Cake, Sweet Cream Ice Cream with Brownies and Chocolate Ice Cream with OREO® Cookies wrapped in fluffy White Frosting and cascading Fudge Ganache.