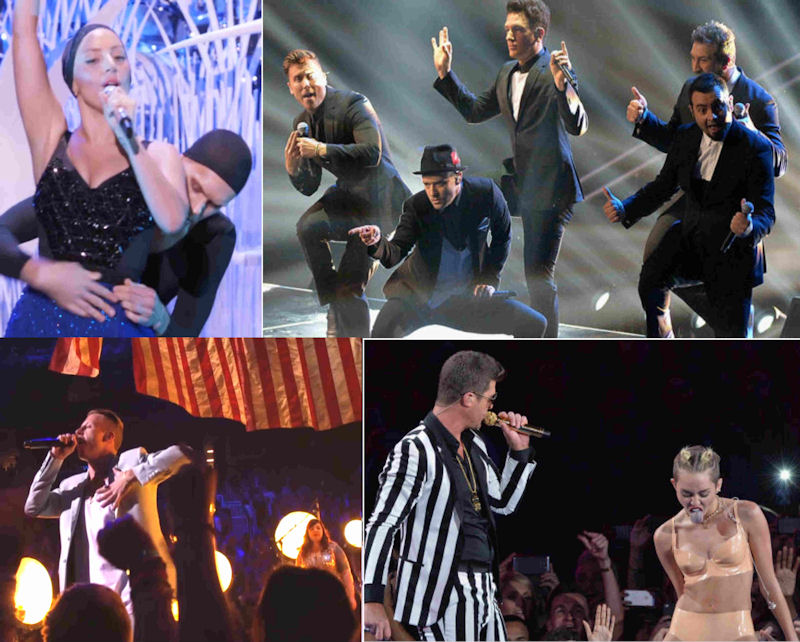 The many faces of Lady Gaga opened the 2013 MTV VMAs on Sunday night. As she sang her new single, "Applause," Gaga transformed from what appeared to be an abstract version of a nun's costume to a black mime body suit; from a blonde wig to a yellow one. By the final note she was stripped down to a shell thong bikini with frizzed out locks.
Moving on to Miley Cyrus and her freaked out performance of "We Can't Stop." She 'twerked' around the stage in a fuzzy leotard, dancing alongside giant teddy bears. As much as we like the song, it was an awkward performance, to say the least, with Miley out of breath, shaking her body and flailing around. Robin Thicke joined in for a "Blurred Lines" medley while the 20 year-old sang along and humped the air, wearing just a shiny bustier and panties. But all raunchy 'skin revealing' moments aside, the big surprise (but not a shock) of the night was the return of N'Sync. As MTV reported, the boy band appeared as part of Justin Timberlake's career-spanning performance in honor of his Michael Jackson Vanguard Award win. In the midst of a massive performance encompassing JT's entire canon, Joey Fatone, Lance Bass, Chris Kirkpatrick and JC Chasez rose from the floor in smoky silhouette, appearing alongside Timberlake to perform "Girlfriend" and "Bye Bye Bye." The reunion was the highlight of the evening, especially for the giddy Taylor Swift.
Here are the winners of the 2013 MTV VMAs (in no particular order):
Video of the Year
Justin Timberlake, "Mirrors"
Best Male Video
Bruno Mars, "Locked out of Heaven" (winner)
Best Female Video
Taylor Swift, "I Knew You Were Trouble" (winner)
Best Pop Video
Selena Gomez, "Come and Get It" (winner)
Artist to Watch, Presented by Taco Bell
Austin Mahone, "What About Love" (winner)
Best Collaboration
Pink feat. Nate Ruess, "Just Give Me a Reason" (winner)
Best Video With a Social Message
Macklemore & Ryan Lewis, "Same Love" (winner)
Best Rock Video
30 Seconds to Mars, "Up in the Air" (winner)
Best Hip-Hop Video
Macklemore & Ryan Lewis feat. Ray Dalton, "Can't Hold Us" (winner)
Best Art Direction
Janelle Monae feat. Erykah Badu, "Q.U.E.E.N" (winner)
Best Choreography
Bruno Mars, "Treasure" (winner)
Best Cinematography
Macklemore & Ryan Lewis feat. Ray Dalton, "Can't Hold Us" (winner)
Best Direction
Justin Timberlake feat. Jay-Z, "Suit & Tie" (winner)
Best Editing
Justin Timberlake, "Mirrors" (winner)
Best Visual Effects
Capital Cities, "Safe and Sound" (winner)
Best Song of the Summer
One Direction, "Best Song Ever" (winner)
Michael Jackson Video Vanguard Award 
Justin Timberlake (winner)
Photos courtesy of various Getty/MTV photographers (N'Sync/Miley Cyrus shot: Rick Diamond/Getty Images)